ACT-Solutions Collaborative Families™

Collaborative Families Pilot Project

Non-adversarial, early-intervention sliding-scale collaborative team advocacy, coaching and neutral financial decision-support; vocational and microfinance options and guidance not otherwise available for income eligible self-represented Sonoma County parents.

Collaborative Families helps parents develop the collaborative communications, negotiation and co-parenting skills necessary to reach mutually beneficial family law agreements, raise emotionally healthy children and achieve family income security.

Collaborative Families Workshop Series

Collaborative Families Project Director, Betty Ann Spencer, with an interdisciplinary team of collaborative attorneys, mental health, financial and vocational professionals, nonprofit program and public agency directors and staff, are developing collaborative skill building workshops for families in transition and self-represented parties addressing family law matters.

The Collaborative Families Workshop series is designed to be used in collaboration with courts and other public institutions. Workshops will be offered in two concurrent sessions allowing parties to build skills in the safety of a separate workshop cohort.
Collaborative Family Law Essentials
Working with a Collaborative Team
Building Collaborative Communication Skills
Finding your Collaborative Voice
Non-Adversarial Information Sharing and Trust Building
Self-Care and Stress Reduction
Co-Parenting Skill Building and Plan Development
Brainstorming Options for a Better Future
Collaborative Negotiation
Informed Financial Decision-Making
Vocational and Microfinance Options for Building Secure Family Incomes
ACT-Solutions Follows the Sonoma Superior Court's Lead
"The Sonoma County Superior Court recognizes the unique nature of family law disputes and the fact that family law issues are best resolved by the parties reaching agreement over such critical matters as child custody, support, and property, without engaging in the traditional adversarial litigation process. The Sonoma County Superior Court strongly supports the use of the collaborative law process as well as other alternative dispute resolution tools for the purpose of developing both short-term and long-term workable agreements that meet the best interests of the entire family, particularly the children whose lives will be affected by the resolution."
- Sonoma County Superior Court Local Rule 9.5 Collaborative Law Cases


Local Rule 9.5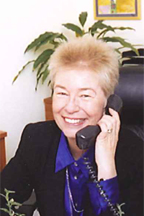 Betty Ann Spencer, JD, MFT
Project Director, Collaborative Families™
A practicing family law attorney for twenty years and a practicing collaborative lawyer since 2000, Betty also holds a CA Marriage, Family Therapist (MFT) License. Betty earned a B.A. and a M.A., in Clinical Psychology from San Jose State and her license as a Marriage Family Therapist in 1975. She received a Law Degree from New College School of the Law, was admitted to the California Bar in 1990, and opened a family law practice in San Francisco. In 1994, when her family relocated to Sonoma County, she joined Margaret L. Anderson's practice, as an associate.
In 1997, when Collaborative Practice was in its formative stages, Betty was a member of a small group of Sonoma County attorneys who met with Collaborative Law leaders, Rod Nurse, Ph.D., Peggy Thompson, Ph.D. and Pauline Tesler, JD. In 1998, Betty opened a practice in Santa Rosa focusing on alternative dispute resolution in family law matters and, in 2000, Betty helped to edit the Sonoma Family Law Court's Pre-Mediation Orientation Handbook.
Betty was a founding member of the Collaborative Law Section of the Sonoma County Bar Association, a member of Divorce without Court and a founding member of the Collaborative Council of the Redwood Empire (CCRE) Board. Betty serves on the CCRE Board of Directors, as Chair of the CCRE Education and Training Committee, and as a member of the CCRE Protocol Committee. She is appointed by the court as minors counsel representing the interests of children in family law matters and continues to take more than 60 hours of collaborative and related continuing professional education each year. www.DivorceWithIntegrity.com
Betty is an Advanced Collaborative Team Solutions, Inc. co-founder and serves as the organization's Secretary, as a member of the Board's Executive Committee and as Director of ACT-Solutions' Collaborative Families Pilot Project.
For more information, please contact ACT-Solutions Collaborative Families Project Director Betty Ann Spencer, b.spencer@act-solutions.org


or call 1.707.494.6503.
Read what Collaborative Families participants are saying:
"Working with ACT-Solutions.org Collaborative Families Project was a comforting experience in a difficult situation. With the team members' help, we were able to navigate through our never-before-experienced reality and to make mutually beneficial and considerate decisions relating to the final outcome of our marital dissolution agreement.
"Our financial decisions, asset division, and real estate dilemma were all made easier by Collaborative Families Mediator/Financial Neutral, Claire Spector, JD, CDFA. Claire arranged for financial specialists to meet with us. They listened to the details of what we were facing, and helped us make a list of possible options to further investigate. Going step-by-step, and, being open to all possibilities, made us feel better about events, as they developed. We were able to learn and understand the laws and regulations surrounding the issues at hand, which helped us make logical decisions instead of emotion-based choices.
"The Collaborative Families Project team members' knowledge, professionalism and excellence made a very big difference in our divorce. I am very grateful for the affordable rate services they provide. This organization is extremely important to our community."
- Sonoma County resident
"I want to thank you so very much for helping me so I'll be able to help myself.  This has been very hard for me to do, but now I can see how it will all come together once these steps are taken."
- Sonoma County resident
Chief Justice Ronald M. George:
"Marital dissolutions often are not merely legal or economic disputes. Because they arise out of the most intimate relationships, they implicate the basic personal, emotional and familial needs of parties and their children. Our court system increasingly has recognized that a judicial decree is far from the final word in a divorce; parental and fiscal responsibilities may last for many years.
"The collaborative approach, which includes attorneys for each party, as well as mental health professionals and neutral financial experts to support the family and guide the parties to mutually acceptable resolutions, can provide parties with complementary resources and dispute resolution methods that are simply unavailable in court."
- Ronald M. George, Chief Justice of California, Supreme Court of California
California Family Code
Section 2013
(a) If a written agreement is entered into by the parties, the parties may utilize a collaborative law process to resolve any matter governed by this code over which the court is granted jurisdiction pursuant to Section 2000.
(b) "Collaborative law process" means the process in which the parties and any professionals engaged by the parties to assist them agree in writing to use their best efforts and to make a good faith attempt to resolve disputes related to the family law matters as referenced in subdivision (a) on an agreed basis without resorting to adversary judicial intervention.