All proceeds benefit
Collaborative Families
For more information,

Collaborative Families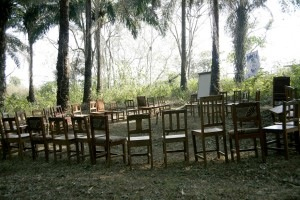 © Photo, Sara Terry
Site of Fambul Tok Kailahun Community Consultation
Fambul Tok
A Film About The Power of Forgiveness
Sara Terry's powerful, award-winning film documents the rebuilding of a nation on the foundation of forgiveness.
A How-To-Guide on Peacemaking, Reconciliation, Trust-Building, Shared Healing and Transformation, featuring the work of Fambul Tok founder, humanitarian and conflict "resolutionary", John Caulker, and dedicated colleagues and community members, as they reweave the fabric of Sierra Leone together...healing one person, one family, one community, one district at a time.
In the deep healing of disclosure, apology, forgiveness and reconciliation, Sierra Leone's women are finding their voices and their individual and shared power to heal and lead. This five-minute short features  Sierra Leone's Peace Mothers transforming the Fambul Tok peacemaking process into a peacekeeping approach ... rebuilding kinships, community, civic, participatory governance, educational and economic life for all.
Kids Tok Peace Clubs born out of Fambul Tok's peacemaking process are flowering and making peace in schools in Sierra Leone, the UK and in the USA.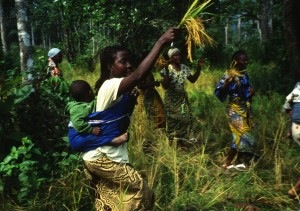 © Photo, Sara Terry
Women Celebrating a Rice Harvest on a Community Farm
in Madina, Kailahun District,
which brought victims and perpetrators to work together
after a local Fambul Tok Ceremony
ACT-Solutions.org
All proceeds benefit 501(c)(3) nonprofit Advanced Collaborative Team Solutions, Inc. ACT-Solutions.org projects. Last year we provided more than 650 hours direct sliding-scale and pro bono professional mediation, facilitation and collaborative support services not otherwise available to low and moderate income clients with complex matters. We are expanding our services. Your tax-deductible contributions make our work possible.
ACT-Solutions.org Collaborative Families's Benefit Screening is made possible with generous support from Fambul Tok Founder, John Caulker, Catalyst for Peace Founder, Libby Hoffman, Rialto Cinemas and Ky Boyd.
Advanced Collaborative Team Solutions Thanks
Ky Boyd, Melissa Hatheway, Rialto Cinemas
Bill Andrews
Andy's Farm Produce, Sebastopol
Adrienne Arsht
Micheala Ashwood
Calvin Simmons Center for the Arts
Ty Caton, Sonoma, CA
John Caulker
Divine Delights, Petaluma. CA
DER.org
Flavor Bistro, Santa Rosa, CA 
Kathy Henschel
Libby Hoffman, Chloe Beaven & Catalyst For Peace
Conway & Leslie Jones
Little Vineyards Family Winery, Sonoma County
Muscardini Cellars, Sonoma, CA
Oliver's Market, Santa Rosa, CA
Piedmont Piano, Oakland, CA
Sarlo Family Foundation
Shelton's Natural Foods Market, Healdsburg, CA
The late Barbara Spector-Karr and Friends
Gerald D. Rape
Dr. Charles Sepos
Rodney Strong Vineyards, Healdsburg, CA
Sara Waldheim
Trader Joe's, Santa Rosa, CA
Harvest Moon Estate & Winery, Santa Rosa, CA
Our Board, Volunteers and Contributors Like You!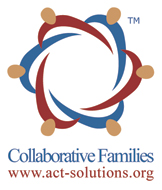 About Advanced Collaborative Team Solutions, Inc.
Our federal tax-exempt 501(c)(3) nonprofit is celebrating five years of providing high quality, free and sliding-scale direct professional collaborative conflict resolution, mediation and interdisciplinary facilitation services not otherwise available to low- and moderate income clients.
Our collaborative teams and ACT-Solutions.org projects address complex family, healthcare, disability, insurance coverage and benefits, eldercare, and end-of-life issues.
To support our work, please send your tax-deductible contribution to: ACT-Solutions.org, 829 Sonoma Ave, Santa Rosa, CA 95404